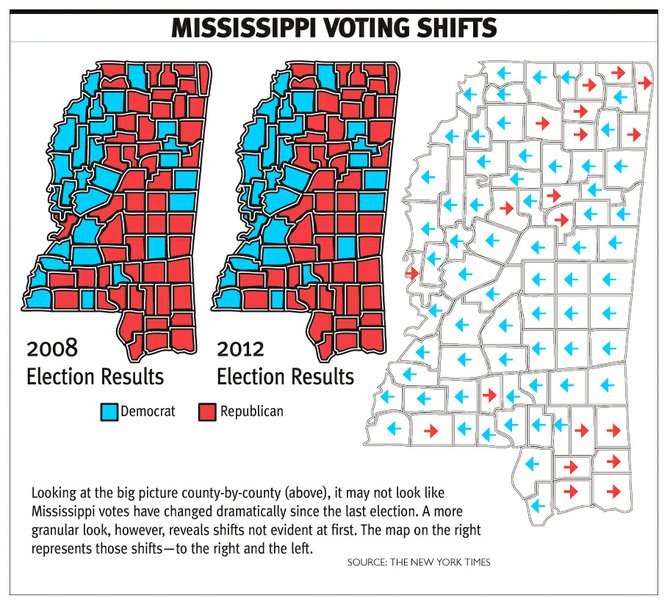 It's hard to believe that, just over a year ago, most of the nation was expecting the super conservative voters in Mississippi to easily pass the Personhood Amendment, known as Prop 26, without flinching. Yes, Prop 26 would've ended access to all abortion, including cases of rape and life-threatening situations for women. Yes,
Prop 26 would've even banned in-vitro fertilization
. Even some types of birth control may have ended up illegal, perhaps. But the rest of the country knew us so well; they're stupid, and surely, they'll pass it.
Except we didn't.
After then-candidate Phil Bryant predicted that Prop 26 failing would mean "
Satan wins
," well, not only did Prop 26 fail at the ballot box in 2011, but Phil Bryant won the gubernatorial election. Not only did Mississippi voters reject the Personhood Amendment, but we rejected it by a whopping
58-42 margin
. And for a moment in time, Mississippians were cheered on, celebrated, and even given props for defeating the Prop. Then, of course, we returned to being the nation's whipping boy once more. After all, we are the most backwards, redneck, masochistically obstinate, most conservative state in the nation.
Except we aren't.
Not anymore, anyway, if Gallup is to be believed (and
after the 2012 presidential election
, you couldn't be blamed for having your doubts). But according to a new Gallup poll, less than half of Mississippians now identify as conservatives. From the
Clarion Ledger
:
Move over,

us

. Alabama is now the most conservative state in the country.
A new Gallup poll has found that Mississippi is no longer the most conservative state in the Union — in fact, we're a few moderates shy of being knocked out of the top five.
The same poll last year had Mississippi No. 1, with 53.4 percent of residents identifying as conservative. This year, just 48.2 percent of Mississippians said they were conservative, good for fourth in the nation.
Alabama flipped places with Mississippi, jumping to No. 1 from No. 4, with 50.6 percent of residents ID-ing themselves as conservatives. Wyoming and North Dakota are more conservative than Mississippi, too.
Despite Gallup's inaccuracy in predicting the 2012 presidential election, the results of the election in Mississippi actually do suggest Gallup may be on to something here. In Mississippi, President Obama received a larger percentage of the vote in 2012 than in 2008, making Mississippi one of the few states that trended more blue this time and less red. For more on that, check out this article over at the Jackson Free Press:
A Jump to the Left? Mississippi: The 2012 Elections and Beyond.
For my part, I'm committed to making sure the leftward trend continues. While the rest of the country continues to write my state off, I continue to believe in the goodness of the people here and in the great potential, even if that goodness is often hidden behind some pretty unflattering things. Despite all the ignorance, bigotry, and cultural stubbornness, her people deserve better, as Phil Bryant's former opponent, Hattiesburg Mayor Johnny DuPree,
noted in his concession speech
.
While I'll definitely keep blogging about national politics and sometimes even international politics, for me, it'll always comes back down to Mississippi.