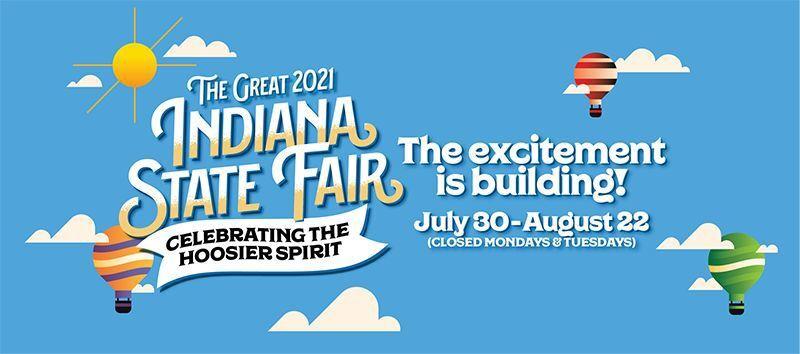 Plan your trip to the 2021 Indiana State Fair | News
INDIANAPOLIS — The Great 2021 Indiana State Fair is right around the corner, and it's time to start planning your trip.
The 2021 Indiana State Fair opens Friday, July 30 and will be closed on Mondays and Tuesdays. A great summer tradition returns with your favorite foods, and new rides like the Hoosier Cruiser Super Wheel and the Double Decker Carousel.
One of the best ways to save money at the fair is to order tickets in advance. Tickets purchased online before 11:59 p.m., EST, on Thursday, July 29 are only $10 plus convenience fee, while general admission tickets purchased at the gate during the Fair are $13.
Value packs of tickets, including the Family 4-Pack and Super Family 4-Pack, are available online only through July 29 at 11:59 p.m., CST. The Family 4-Pack includes four tickets and a parking pass for just $40 and the Super Family 4-Pack includes four tickets, a parking pass, and 50 Fair Bucks for $90. Children 5 and under get in free.
You can also save 35% on Midway wristbands by purchasing them in advance online for only $25 plus a convenience fee. The Midway wristband is perfect for fairgoers who spend a lot of time at the Midway, giving you unlimited access to Midway rides on select days of the Fair. This deal ends on Aug. 1 at 11:59 p.m., EST, so grab yours soon at www.IndianaStateFair.com.
With opening day just days away, there's much to be excited about. Opening weekend is bringing back some of your favorite fair activities, but there are also new events and attractions to look forward to.
Highlights of Opening Weekend include:
Watch from the Hoosier Lottery Grandstand as enormous, colorful balloons take off from the Infield and fill the sky for the annual Hot Air Balloon Race. With the sunrise in the background, it's a beautiful sight and the perfect way to kick off the 2021 Indiana State Fair! The event takes place on opening day (Friday, July 30) at 6:30 a.m. and is free with paid fair admission.
ANIMAL YOGA SESSIONS – NEW
The Indiana State Fair is excited to offer animal yoga this year, featuring some of your favorite barnyard animals. These cute creatures will cuddle, climb, and entertain as you partake in a 45-minute beginner-level yoga session. Multiple sessions of animal yoga will be held at Gate 12 during Opening Weekend, including Pig Yoga (July 31 at 10 a.m. or 11:30 a.m.) and Lattes & Lambs Yoga (Aug. 1 at 10 a.m. or 11:30 a.m.). Tickets are $35 and include fair admission. For more information and to purchase tickets, visit IndianaStateFair.com.
Habitat For Humanity is back at fair. For the 11th year, volunteers from the Greater Indy Habitat for Humanity and Indiana Agriculture groups are coming together to build a home right here on the Fairgrounds, located just north of the Corteva Agriscience FFA Pavilion. Attend their opening ceremony at 8:30 a.m. on Opening Day (Friday, July 30) or stop by from 9 a.m. to 7 p.m. daily to see the volunteers and homeowner at work and learn about Habitat's mission.
BUDWEISER CLYDESDALES, BACK BY POPULAR DEMAND
Known for their strength and striking appearance, the iconic Budweiser Clydesdale horses are one of the most recognizable animals in the country. And now you can see them while visiting the Great Indiana State Fair! Stop by to visit these majestic horses from 9 a.m. to 7 p.m. July 30-Aug. 8, located just inside Gate 12 north of the Farm Bureau Building.
When it comes to parking and transportation, the Indiana State Fair offers several options to accommodate fairgoers. Onsite parking is first come, first served and is available for $10 at the gate or online during the Fair. Save big by purchasing your parking passes online in advance for $8 plus a convenience fee. These discounted parking passes can be purchased at IndianaStateFair.com through July 29 at 11:59 p.m., EST. Tractor shuttle service is free this year for a trip around the Fairgrounds.
This year's shuttles are sponsored by FedEx Employees Credit Association, Hoosier Lottery, 811 Indiana (IURC), MHS, Sleep Number, and Tractor Supply Co. Other parking and transportation options, along with recommended routes to the fair are available at www.IndianaStateFairParking.com.
About the Indiana State Fair
The Indiana State Fair is the state's largest multi-day event celebrating Hoosiers' spirit and agricultural heritage. These 18 days celebrate Indiana agriculture and promote it to hundreds of thousands of people across Indiana, and beyond. Nationally recognized for offering great entertainment, showcasing 4-H youth, interactive agriculture education programs, premier facilities and a variety of unique, fun foods, the Indiana State Fair has been an annual attraction for generations of Hoosiers since 1852.
The 2021 Indiana State Fair will be held July 30-Aug. 22 (closed Mondays and Tuesdays). The theme for this year's fair is Celebrating the Hoosier Spirit.